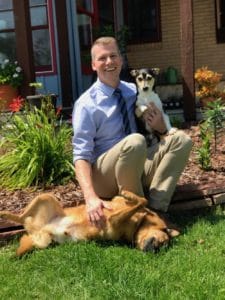 Steven was born and raised in a small town in southwestern Pennsylvania. In 1997, he received a bachelor's degree in journalism and communications from Point Park University and began his professional career by starting his own marketing and technical writing company.
After seven creative years in Pittsburgh, Steven moved to Colorado in 2004 where he continued his education in accounting and management. In November of 2012, he joined the LPAH team as the hospital's first Practice Manager, where he is able to incorporate all of his past professional experiences with his love for animals.
Steven lives in Longmont with his husband Beau; their dogs, Toasty Jacob and Rocky Flintstone; and a coop full of chickens.