The Manager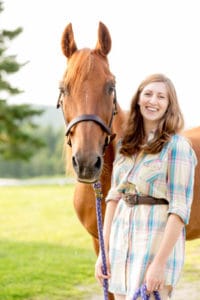 Jennifer
Jennifer was born and raised in New Hampshire and has always been drawn to animals—her childhood was full of stuffed animals, model horses, and Littlest Pet Shop, all meticulously organized. She's always had cats, and shares a birthday with her horse, Dice (pictured), who is living out her retirement back in NH.
Another lifelong interest of Jen's is music. She majored in music at Skidmore College in New York state, studied piano technology at North Bennet Street School in Boston, and is a Registered Piano Technician. When she's not at LPAH or tuning pianos, you might find her at the local Cidery, puzzling, watching Disney movies, or competing in a Mario Kart tournament.
Jen and her husband, Jesse, live in Longmont with their dog Zaf, a lovable Heeler mix, and two cats: a 6-toed torbie, Willow, and a mischievous orange tiger, Alvin (not named after the chipmunk, but he might as well have been!).