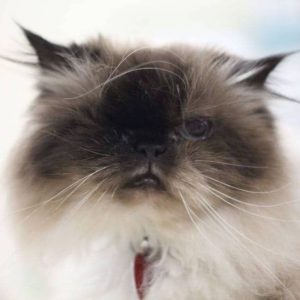 Hello! My name is Tumbleweed. I came here to Longs Peak Animal Hospital in April of 2016 in rough shape. I had been cared for as an outdoor kitty by a very kind family. They stepped in to feed me after I was abandoned by my original owners who moved out of the neighborhood. I was very skittish, and wouldn't allow anyone to touch me…I spent all my time hiding under the porch.
After over a year of living outdoors, my caretaker family saw that I had developed a severe eye problem, and managed to trap me and bring me to Longs Peak. My hair was almost completely matted, and my right eye was so damaged and infected that it needed to be removed. My caretaker family was unable to bring me into their home, despite really wanting to, as several of them have severe allergies to feline dander. Instead, they relinquished me to Longs Peak, where I have been able to receive the care I needed, and am now thriving!
Once I realized no one was going to hurt me, I started purring all the time! I have had my eye surgery, a haircut, and a dental cleaning with extractions of several infected teeth. Even though I look cranky, I am now pain-free and I am blossoming! Everyone here in the office has fallen in love with me. I can most often be found helping the doctors here write up their charts (I love to sit on the paperwork), or snoozing in a lap while someone works on the computer. My favorite chair sits by a window where I can watch the treatment area, and I especially love sleeping on staff coats. I have never met a food I didn't like, and I don't think I ever want to go outside again!