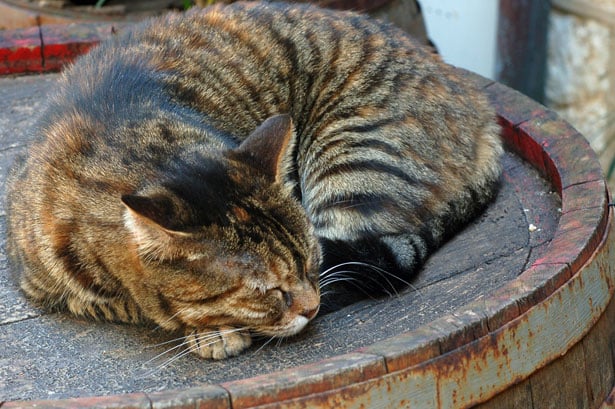 Do you have a senior citizen kitty? By definition, a senior feline is any cat over the age of seven. While cats routinely go on to live well into their mid to late teens (or even their early twenties!), older cats are at higher risk for developing many diseases which may have only subtle symptoms.
Vomiting: A common misconception is that frequent vomiting, or bringing up food and hairballs, is normal. In truth, chronic vomiting or hairballs can be a sign of underlying disease. Although your cat many be a fast eater, a fastidious groomer, or "just a puker," vomiting is never normal. Even hairballs can indicate abnormal function of the stomach and intestines. If you have noticed that your cat is vomiting frequently, we recommend scheduling an appointment with your veterinarian to rule out possible causes including certain inflammatory bowel conditions, lymphoma, diabetes, or kidney disease.
Increased drinking and/or urination: It is also important to monitor your cat's water intake and urination. For many feline diseases (like diabetes mellitus or kidney disease), your cat's water and urine habits may change drastically. For example, diabetic cats have very high blood sugar which causes increase thirst and urination. Things to watch for include excessive drinking, larger urine clumps in the litter box, filling water bowls more frequently, or urinating outside of the litter box.
Arthritis: Arthritic cats may not have obvious pain or limp but you may notice that your senior feline friend is less playful, no longer jumps on high furniture, or chooses to lay in unusual spots lower to the ground. While arthritis is an irreversible condition, there are a number of supplements and medications that may help to reduce pain and increase their quality of life.
Dental disease: Dental disease can be easily diagnosed by your veterinarian on physical examination. At home, you may notice weight loss, decreased appetite, or bad breath. Advanced dental disease can cause serious health complications including severe pain, weight loss, tooth infections, and tooth loss. Did you know that dental disease can even affect the heart, liver, and kidneys? There are many good products that you can use to help prevent dental disease but the best thing for preexisting dental disease is a professional veterinary dentistry to remove dental tartar and to address any diseased teeth.
Hyperthyroidism: Hyperthyroidism is a very common condition in older cats. The most noticeable symptoms include weight loss, a dry/scruffy coat, and vomiting. These cats suffer from overproduction of thyroid hormone from the thyroid glands located in the neck. Unlike many other diseases, cats with hyperthyroidism often maintain a good appetite or may even be ravenous. Luckily, when hyperthyroidism is diagnosed early it can be easily treated.
If your cat hasn't been to the veterinarian for their regular yearly check-up, or if you have noticed any of these symptoms, we recommend giving us a call to schedule an examination. Routine veterinary care is important for your cat's well-being to ensure they live a long and healthy life!
Longs Peak Animal Hospital, PC – 9727 Ute Highway – Longmont, CO 80504
303-776-6666  – www.longspeakah.com