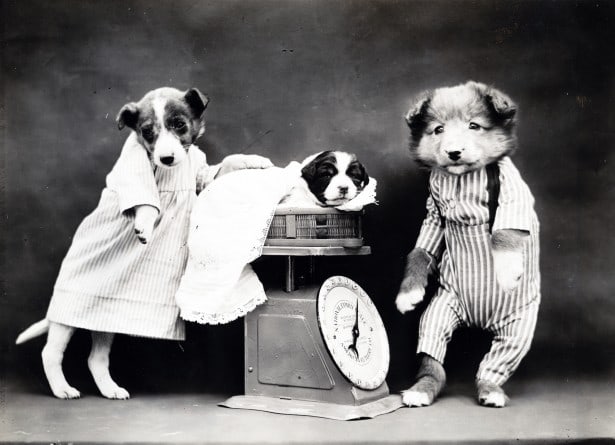 We've all heard about the obesity epidemic in America. 36% of adults and 17% of children in the U.S. were considered clinically obese from 2011 to 2014. Around an additional 20% were considered overweight during that time. What we don't often hear about is the obesity epidemic in our pets. According to the Association for Pet Obesity Prevention, in 2015, 54% of dogs and 58% of cats were considered overweight or obese, making obesity one of the more common, yet preventable, diseases we see in our pets.
But, why does obesity matter?
Diseases that have been associated with obesity in pets include but are not limited to osteoarthritis, Diabetes, high blood pressure, heart and respiratory disease, knee ligament injury, kidney disease, urinary bladder disease, cancer, and decreased life expectancy (up to 2.5 years). So, if decreasing unplanned visits to the veterinarian and unwanted prescription costs sounds good to you, getting that extra weight off of your pet may be your best opportunity.
So, how do I get rid of those unwanted pounds?
First, before starting any diet or exercise program, it is important to ensure your pet is healthy by making sure he/she is up to date on his/her annual physical.
More than any other disease, obesity is one that you, as an owner, have substantial control over.  Diet is probably the easiest variable to control to start making immediate improvements in your pet's body condition. See the table below, from the Association for Pet Obesity Prevention website (http://petobesityprevention.org), to check how many calories your pet should be eating per day and then make adjustments based on the type of food you feed and your pet's individual activity level.  Remember to include all food sources, including treats, rawhides, Greenie-type dental chews, as well as people-food, which can all be very high in calories. If your pet is already getting an apparently appropriate intake of calories but is still overweight or obese, a good rule-of-thumb is to decrease the total daily intake of food by 25%, starting first with people food and treats. Remember, however, that some diseases, such as hypothyroidism can affect your pet's ability to lose weight, and you should also consult with your veterinarian if you have questions or your pet continues to be overweight despite these simple interventions.
Cats
10 lbs.
180 to 200 calories*
Dogs
10 lbs.
200 to 275 calories*
20 lbs.
325 to 400 calories*
50 lbs.
700 to 900 calories*
Daily Caloric Needs for Active Humans
| | |
| --- | --- |
| Male | 2500 Calories |
| Female | 2000 Calories |
*Please note that the calorie counts provided are guidelines for average lightly active adult spayed or neutered dogs or cats (1 to 7 years old receiving less than 30 minutes of aerobic activity per day). The caloric needs of a particular pet may differ depending on such factors as lifestyle, genetics, activity level and medical conditions. Your pet will likely be fed fewer calories if you are attempting to reduce weight and improve fitness. Note that most indoor cats receive very little sustained aerobic activity and many dogs do not receive adequate daily physical activity. We recommend a structured, routine exercise and nutritional program for your pet.
Second to diet, and maybe just as important for the control of obesity, is a regular exercise program. 20-30 minutes of moderate activity per day is a reasonable goal. For a dog, this could include brisk walking or fetching a tennis ball. For a cat, a toy mouse on a string can provide a good source of mental and physical stimulation. In winter, when it is tough to get outside for exercise, consider treadmill training for your dog. When thinking of ways to get exercise for you or your pet, consider that any amount of activity is better than none. And what a great opportunity to bond with your pet and increase their quality of life, and maybe your own too!